Rally Obedience is a team sport similar to agility in that the handler guides the dog through a  course.  The difference is that the course is made of different signs that indicate obedience-like skills the team must perform before going on to the next sign. The team attempts to correctly complete all the signs in a specific order in the quickest time.  Skills on the signs include things like sit, down, stay, and heeling.
Both the dog and handler develop strong teamwork skills in Rally.  It's also a great venue for the dog to learn self-control.  Dogs of all breeds (and mixed breeds) love Rally!
Rally is much less formal than traditional competitive obedience and less physically demanding that agility.  You may talk to your dog the entire time and use many different cues while doing the course.
Contact us if we haven't answered your question below!
If I take rally obedience classes, do I have to compete?
There is no requirement that you compete in rally if you attend our classes.  Our main goal is to help you and your dog learn something new while providing exercise, working as a team, and providing a "job" for the dog.  However, some of our students currently do – or plan to – compete in rally and we will do our best to prepare you for competition in case you decide you want to try it.
What rally obedience venues are covered?
We mainly focus on AKC and ASCA rally.  However, you will find that most rally venues are very similar in the skills that are required and thus it is not hard to participate in other venues.  You just need to make sure that you learn their signs and have the skills required for that level.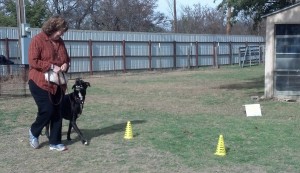 What skills will my dog learn?
Rally skills include sit, down, stand, stay, and some positional skills such as heeling and "Front".  The dogs also learn to work around distractions like food and toys.
Does my dog need previous training?
We require teams that would like to do rally go through our Basic Dog Obedience class first.  This is to make sure that the dogs have an understanding of basic training skills such as sit, down, stay, and a recall.  While our obedience class is designed to help any dog become a valued family member, the class will also prepare you for rally training.
How old must my dog be to start training?
We accept puppies as young as 4 months old in our Basic Dog Obedience classes.  After completing Basic Obedience, they continue on to our Rally 1 class.
The great thing about Rally is that it is a great venue for both younger and older dogs!  We find that older dogs enjoy spending time with their handlers and learning something new just like the younger dogs do!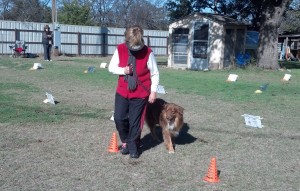 Do I need a lot of equipment?
Rally obedience doesn't require much in the way of equipment!  All you need is a treat bag full of treats and a leash at the beginning stages.  Some other inexpensive training tools may be added, but many of these can be found around your house or easily acquired.  Many of the skills can be practiced in your living room!