Cowtown Dog Sports is located in Hudson Oaks, Texas – about 20 minutes west of downtown Fort Worth.  Parking is on the north side of the facility.  The area is surrounded by wildlife.  Students have spotted deer, foxes, possums, rabbits, and raccoons in the areas around the training facility.
Classes are held both indoors and outdoors.  Obedience, rally, CGC, and other classes are held in our new 48′ x 80′ indoor facility.  The indoor area is climate controlled, matted, and provides plenty of room for classes – including agility during inclement weather.  There is enough space to set up a full sized obedience/rally ring.  Big roll up doors along two sides provide easy access to the outdoor training area.   Crating for seminars and trials is inside and participants can sit inside while watching others run agility courses outside.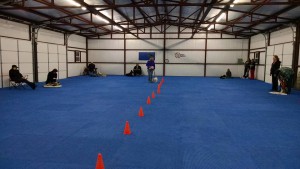 Agility classes are held outdoors in safe, enclosed areas.  During inclement weather, class is moved indoors.  There is a fully lit field/arena that that is large enough to support two full agility courses and a separate smaller area (also lit and enclosed) for training foundation skills, smaller sequences and other classes such as obedience and trick training.  We have rubberized contacts, 24″ weave poles, and a breakaway tire.  In the summer, we provide swimming pools for the dogs to cool off and we even have a stock tank available for your dog to swim at various times.
The facility is available for rental for seminars – contact us for more information.